TRANSPORT
The right vehicle for any requirement.
For over 100 years, we have been offering our customers a comprehensive and modern transportation service. Our fleet can solve nearly any transportation challenge, seamlessly integrating into our clients' supply chains.
Beyond pure transportation services, our specialized vehicles, particularly crane vehicles and truck-mounted forklifts, cater to a niche market. Thanks to competitive pricing, consistent reliability, and the highest quality standards, we've established ourselves as one of the leading logistics providers in Germany.
Renowned companies from both the industrial and commercial sectors count themselves among our clientele. Our focus is always on the customer and their needs. Experience for yourself our commitment and outstanding service.
Sattelzug
Die Sattelzüge spielen eine wesentliche Rolle in unserem Fuhrpark, um Waren effizient und zuverlässig von einem Ort zum anderen zu transportieren. Sie bieten eine große Ladekapazität und können dadurch große Mengen an Gütern transportieren. Durch die gewichtsoptimierten Auflieger liegt die Nutzlast trotz Mitnahmestapler bei 25 Tonnen.
Semi-trucks
Semi-trucks play a crucial role in our fleet, transporting goods efficiently and reliably from one place to another. They offer a large loading capacity, allowing them to transport substantial quantities of goods. With weight-optimized trailers, the payload remains at 25 tons, even with the inclusion of a truck-mounted forklift.
Hängerzug
Der Hängerzug hat ein beeindruckendes Laderaumvolumen von bis zu 110m³. Er wird speziell angefragt, wenn es sich um beengte Entladesituationen handelt. In diesem Fall erfolgt die Zustellung der Ware nur mit dem Motorwagen. Dank dem Mitnahmestapler ist ein Umladen vor Ort von Anhänger auf Motorwagen immer gewährleistet.
Truck and Trailer
The truck and trailer have an impressive loading volume of up to 110m³. It is specifically requested for tight unloading situations. In such cases, the delivery of the goods is made only with the motor vehicle. Transferring goods on-site from the trailer to the motor vehicle is always guaranteed thanks to the truck-mounted forklift.
Mitnahmestapler
Der perfekte Partner. Unsere Mitnahmestapler ermöglichen Be- und Entladungen auch in schwer zugänglichen Bereichen mit einer Hubkraft von bis zu 2 Tonnen und können an Sattelfahrzeugen, Hängerzügen, Jumbozügen und bei schwierigen Zufahrten "auf der letzten Meile" sogar am Motorwagen mitgeführt werden. Durch den Einsatz von gewichtsoptimierten Fahrzeugen können wir Sendungen von bis zu 25 Tonnen transportieren.
Truck-mounted forklift
The perfect partner. Our truck-mounted forklifts enable loading and unloading even in hard-to-reach areas with a lifting capacity of up to 2 tons. They can be carried on semi-trucks, truck and trailers, jumbo trucks, and in case of difficult access on the "last mile", even on the motor vehicle itself. Thanks to the use of weight-optimized vehicles, we can transport shipments of up to 25 tons, even with the forklift on board.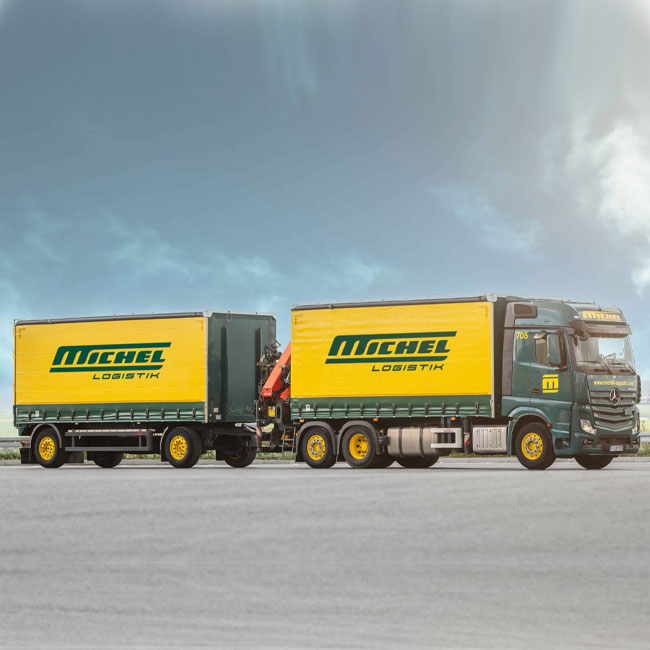 Kranfahrzeuge
Bei einer Entladung in luftiger Höhe kommen unsere Spezialkranfahrzeuge zum Einsatz, die eine Entladung von bis zu 27 Meter ermöglichen. Durch den Einsatz von speziellen Anbaugeräten (Drehmotor, Palettengabel, Steinzange, Wendegabel) können wir jeden Kundenwunsch erfüllen. Unsere Fahrer beherrschen den Kran ebenso fachkundig wie ihren LKW.
Crane Trucks
When unloading at lofty heights, our specialized crane vehicles come into play, allowing unloading of up to 27 meters. With the use of special attachments (rotary motor, pallet fork, stone clamp, turning fork), we can meet any customer request. Our drivers handle the crane as expertly as they do their truck.
Silofahrzeuge
Unsere Silofahrzeuge sind auf den Transport von rieselfähigem Material wie Zement, Gips und Estrich spezialisiert. Alle unsere Fahrzeuge sind mit einem Kompressor ausgestattet, der die eigenständige Entladung des liegenden Silos an der Baustelle ermöglicht.
Bulk Transporters
Our silo vehicles specialize in the transportation of free-flowing materials like cement, gypsum, and screed. All our vehicles are equipped with a compressor, allowing for independent unloading of the horizontal silo at the construction site.
Thermofahrzeuge
Mit unseren Thermofahrzeugen schließen wir die Lieferkette zwischen Zentrallager und Verbrauchermarkt. Wir bieten den professionellen Transport von Lebensmitteln – trocken und temperaturgeführt – und stellen unseren Kunden im Schichtbetrieb Auslieferfahrzeuge für den täglichen Einsatz zur Verfügung.
Refrigerated vehicles
With our refrigerated vehicles, we close the supply chain between the central warehouse and the consumer market. We offer professional transportation of food – both dry and temperature-controlled – and provide our customers with delivery vehicles for daily use in shift operation.
City Sattel
Die City Sattel kommen hauptsächlich in unserem Nahverkehr zum Einsatz. Es handelt sich um eine spezielle Variante des Sattelzugs, die durch die kompakte Größe eine Erleichterung beim Manövrieren und Parken in beengten städtischen Umgebungen bieten.
City semi-truck
The City semi-trucks are primarily used in our local transport. They are a special variant of the tractor-trailer, which, due to their compact size, offer ease in maneuvering and parking in tight urban environments.
Motorwagen mit Hebebühne
Die Motorwagen mit Hebebühne sind täglich für die regionale Verteilung und die Abholung von Stückgütern im Einsatz. Durch die integrierte Hebebühne ist eine einfache Be- und Entladung von schweren Gütern kein Problem.
Truck with tail lift
The rigid trucks with tail lifts are used daily for regional distribution and collection of general cargo. Thanks to the integrated tail lift, easy loading and unloading of heavy goods is no problem.